The state-owned industrial zones were presented at the business forum in Istanbul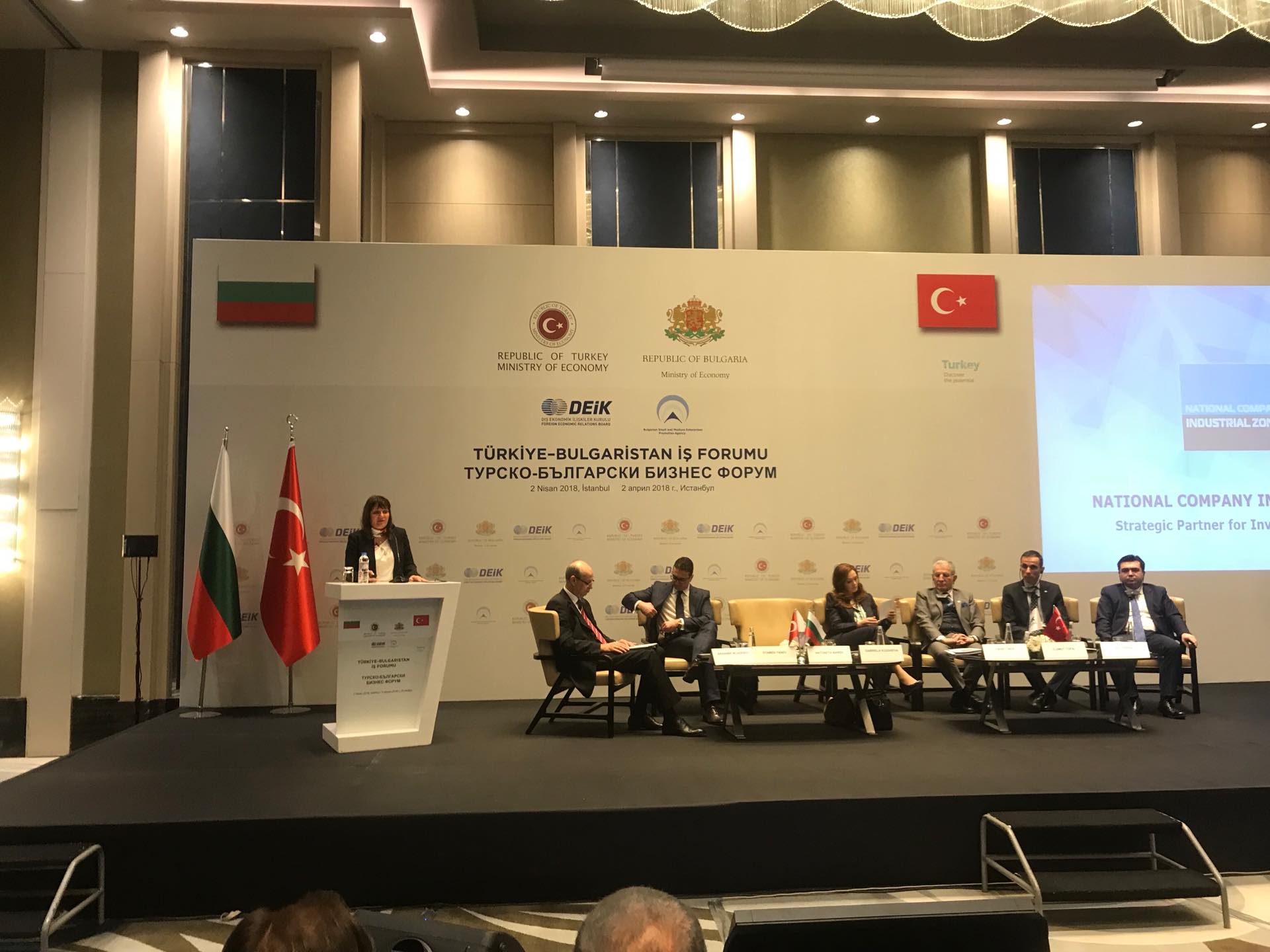 NCIZ was presented in front of more than 150 Bulgarian and Turkish firms including the Bulgarian Minister of Economy Emil Karanikolov and his Turkish colleague- Nihat Zeibekji at the Bulgarian-Turkish business forum, which took place in Istanbul on Monday.
The executive director of NCIZ Antoaneta Bares presented the work activities and the method of work of the company, as well as the portfolio composing terrains that are offered to potential investors. Recently, new pieces of land covering 100 decares near Kurdjali, really attractive destination for the representatives of the Turkish business, were added to the portfolio of the company.
Thanks to the business partnership with the local authorities and the memorandums signed recently with the municipalities in the whole country, NCIZ has now more areas in more locations with logistic and infrastructure benefits. One of the last signed memorandums was with Stara Zagora municipality, another attractive destination for business in Turkey because of the geographic location.
Due to the exceptional interest shown by the Turkish firms as well as the perspectives for further investments in Bulgaria and their desire to make their business available to the trade market of the European Union, a couple of meetings were organized between NCIZ and the Turkish firms.
The present forum demonstrated that the common will and desire for more dynamic and intensive development of the relations between Bulgaria and Turkey, claimed the minister at the beginning of the event. He emphasized that Turkey is one of the leading trade partners, because the Turkish firms take fourth place in the Bulgarian export and fifth in import. Karanikolov commented that the geographic location and the potential of the trade markets are the pre-condition for the co-work between the Bulgarian and the Turkish firms.
''The trade between both countries is balanced, it amounted to nearly 4 billion euro in 2017. The Bulgarian export for Turkey exceeds the sum of 2 billion euro, whereas it forms 7,8% from the export of the whole country and a 10% increase was marked. The import of Tukey amounts to 1,9 billion euro, whereas it forms 6.3% from the import of the country and a 17.3 % increase was recorded, emphasized Karanikolov.