NCIZ signed a memorandum for cooperation with the regional administration in Lovech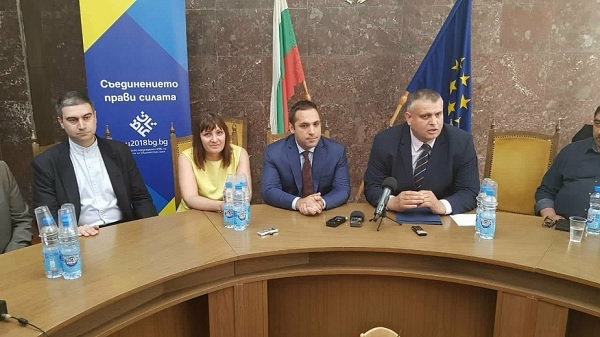 The memorandum for cooperation was signed both by NCIZ and the regional administration in Lovech today. The agreement was signed under the supervision of the Minister of the Economy Emil Karanikolov in the meantime while the forum ''Industrial zones- the key to the economic growth of the industrial regions '' took place.
The regional director of the district of Lovech- Georgi Terziiski and the executive director of NCIZ Antoaneta Bares, who made a presentation about the work of the company and the industrial zones included in the NCIZ' portfolio, laid their signatures down.
The Minister Karanikolov pointed out that the memorandum is a means which will support the policy for overcoming the imbalance in those regions by creating new industrial zones in the whole country. According to the memorandum, the regional administration in Lovech and NCIZ will work together as their aim is to attract more investments and to form an economic zone in the town if the investors show an interest in it.
The local authorities offer three terrains for development of the industrial zone which are located in Lovech, near the place called ''Telezhene''and cover 74 877 square meters of land. Those terrains are state-owned, but they are not serving their purpose, so that is the reason why their status will be changed – will be public-private estates, under the control of the country. A couple of years ago those terrains were used to satisfy the needs of NCIZ, primarily regarding the selection process and the reproduction of the animal kind.
The estates are located 200 km far away from the route Lovech-Levski-Ruse, near the cargo rail way station in Lovech and connected with electricity station. Intentions for making investments in relation to those three properties have been already expressed several times.
During the meeting, the local authorities along with some local business representatives discussed the questions that concern the shortage of qualified people, working in the field of business.
The Minister of Economy emphasized that the government works hard to solve this issue. The temporary solutions that could be offered are making the process for obtaining work visas and receiving citizenship by qualified people living abroad a lot easier and simple. ''We are considering the idea of building new centres which will aim to give those people a chance for further qualification and education but taking into account the needs of the business'', added Mr Karanikolov.