NCIZ presented in front of the Bulgarian and Turkish businesses at a forum in Burgas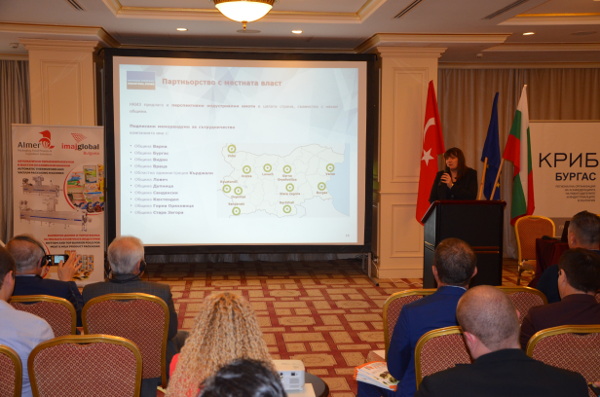 NCIZ was presented at the international forum ''Turkish-Bulgarian business - good practices, opportunities and perspectives.''
In front of entrepreneurs from Bulgaria and Turkey Antoaneta Bares presented the work of the company and the advantages of investing in public industrial zones here in Bulgaria. She did not miss the chance to mention as well as the good mutual work with the Municipality of Burgas. The purpose of their co-work is to develop the Industrial and logistic park- Burgas, which was co-host of the forum.
On this event took part the regional director Vulcho Cholakov, Nurai Iniontene- a consul general of Turkey in Burgas, the vice -major of finances, budget and economics in Burgas – Krasimir Stoichev, the executive director of the Bulgarian agency for investments Stamen Ianev, the representative of the Confederation of the employers and factory-owners in Bulgaria, responsible for the district of Burgas- Pavlin Ivanov and the representatives working in the sector of business in both countries.
"Such good relations between Bulgaria and Turkey has never existed before. To see that two adjoining countries have such a good exchange is really satisfying. What drawn my attention were the numbers mentioned by the Minister of Economy Emil Karanikolov 20 days ago. The investments in Bulgaria that have been made by Turkey are over 1 billion leva and the Bulgarian export for Turkey exceeds 2 billion leva for the last year, whereas the import was 1,9 billion leva- excellent indicators'', emphasized Vulcho Cholakov at the forum.
Krasimir Stoichev mentioned that the local authorities are trying with different financial approaches to stimulate business projects in the town- one of which unprecedently is the good connection between the airport in Burgas and the capital city as well as with other leading airports in Europe. Until this moment that was an issue for the mass business, relying mainly on regular air lines.
Guests and participants in the business forum embraced the opportunity for organizing meetings, which aimed to strengthen the position of Bulgaria as a business partner with Turkey.