Danish JYSK: Investors have opportunities in Bulgaria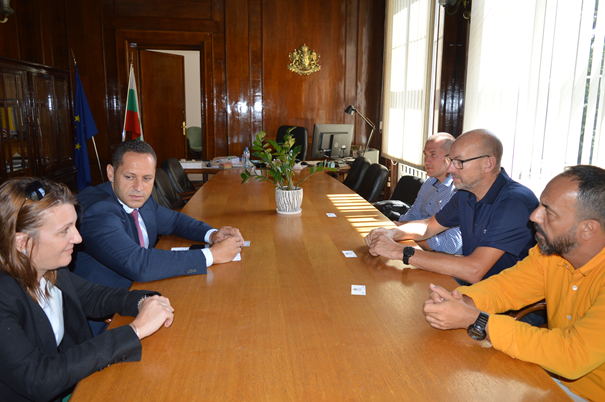 The support of the state and the government is a leading factor for the realization of the large-scale project of a high-tech logistics center in Sofia-Bozhurishte Economic Zone of the Danish furnishing chain "JYSK". This was stated by Troels Larsen, Logistics Manager and Project Manager in Bulgaria at a meeting with the Deputy Minister of Economy Mr. Alexander Manolev and the Executive Director of National Company Industrial Zones Mrs. Antoaneta Bares. He added that the process of investment realization is accompanied by many challenges that the company successfully overcomes thanks to the good interaction with the ministry and NCIZ.
The suppliers of JYSK located close to our new Logistics Center will have a financial advantage and one of them has already begun building a manufacturing plant in Bulgaria. An investment that would not have happened if JYSK had not begun building its logistics center - that was mentioned during the meeting. Troels Larsen stressed that Sofia-Bozhurishte Economic Zone offers much as a location and potential for development, and it is necessary to make additional investments in the infrastructure development. "This is a top priority of the ministry. Meetings have already been held at the Ministry of Transport to develop projects for transport connectivity improvement to the zone," said Alexander Manolev.
Deputy Minister Manolev pointed out that reducing administrative burdens to business and citizens is a government priority and coordinated actions across sectors have been taken in this direction. In his words, this will also shorten the time limits of such large-scale projects. "Only at the Ministry of Economy and at the companies and agencies in its system we have relieved 113 of the 187 services and licensing regimes that are provided. Similar steps are taken by all other administrations", he said.
The logistics centre of the Danish chain will be located on an area of ​​300 000 sq.m. and will occupy 93 000 sq.m. unfolded built-up area. The centre will serve not only the clients of the company on the Balkan Peninsula, but also in South-eastern Europe. The investment is worth EUR 100 million and it is expected to be completed by mid-2019. 200 new jobs will be created and the company's goal is to use mainly local suppliers of goods and services whenever possible, became clear during the meeting.