A Meeting with the Mayor of Bozhurishte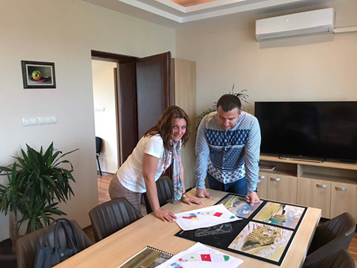 Mrs. Antoaneta Bares, CEO of NCIZ had a meeting with Mr. Georgi Dimov, Mayor of Bozhurishte Municipality, dated 8 June 2017. The meeting took place in the town hall of Bozhurishte. The main topics of the meeting were the zone development, approaches for access to the road network and transport logistics. Mrs. Bares and Mr. Dimov discussed their mutual cooperation and future projects for the benefit of investors in Sofia – Bozhurishte Economic Zone.
They discussed the Project for partial amendment of the Detailed Spatial Plan of the Zone and its approval.
The two sides agreed on the following:
- Organizing a meeting by Mr. Dimov with the Mayor of Vrabnitsa region, regarding the access of the zone to the road to Serbia along the Evropeiski pat Boulevard.
- Inquiring of the accessibility opportunities near the horse base with access to Bansko road.
- Mrs. Antoaneta Bares to discuss with Mr. Zdravko Zdravkov, head architect of Sofia Municipality, the possibility of connecting Tsaritsa Yoana Blvd. to Bozhurishte.